Ingenuity Trio 3-in-1 Ridgedale High Chair Review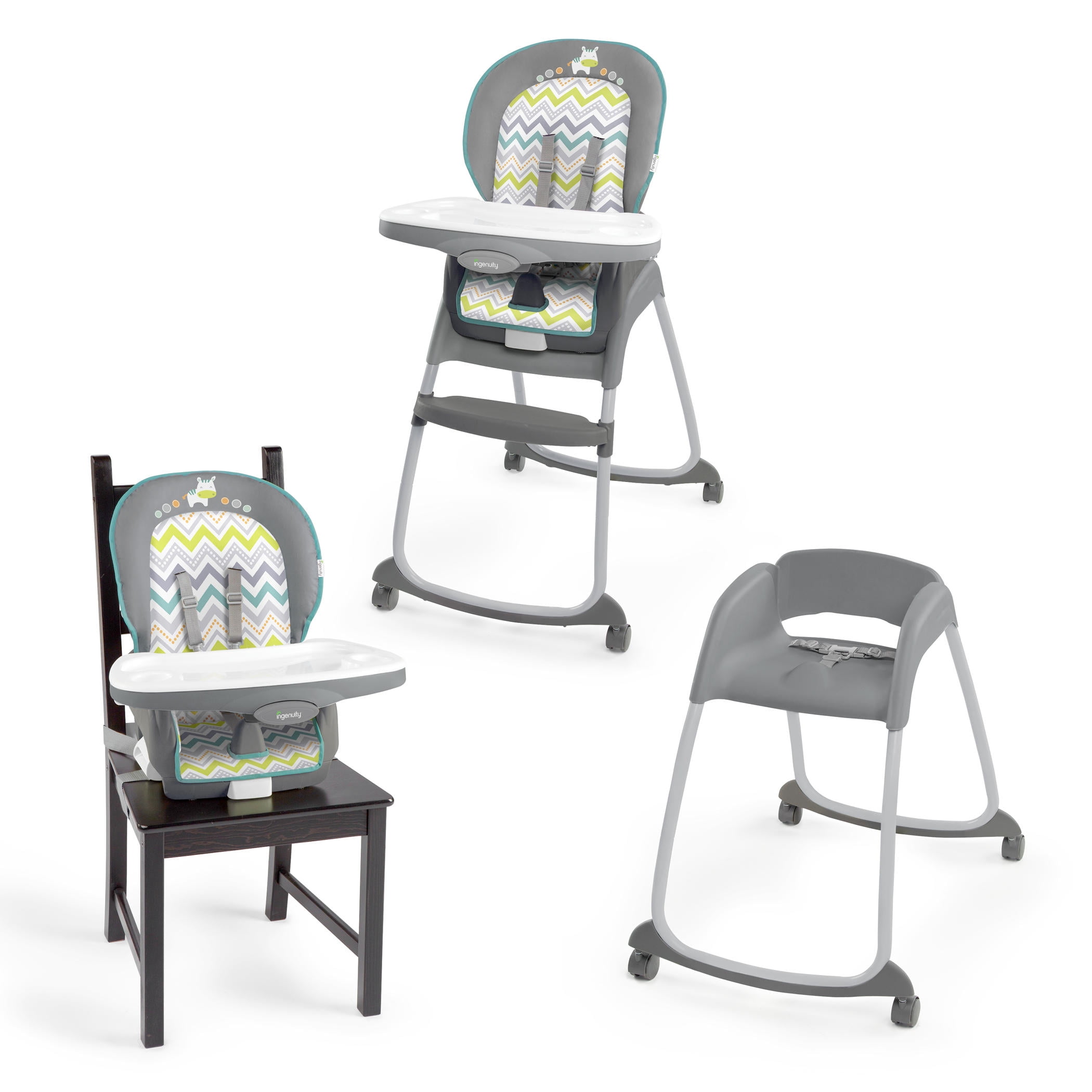 The Ingenuity Trio 3-in-1 High Chair is a great option that gives you bang for your buck. We received this high chair as a Christmas gift a couple years ago from my mom for Zander to start his solid feeding journey off the right way. It can be used in three different ways: full size high chair, booster seat, & as a toddler chair. While in booster mode, the booster and the toddler seat can be used by two different children separately.
My oldest child is 6, so we can't take advantage of this feature, but if you have multiple small children, this can be of benefit to you. It comes with a five point harness that gives me that extra comfort in the safety department and also has 3 different reclining options which is nice if your baby still drinks a bottle.
One of my favorite features about the Ingenuity Trio is the one hand, removable double tray. Wait, let's take a second to look a little closer. It has a double tray meaning the top tray removes easily so that you have a second tray that is clean and ready to be used when the first is dirty. Both trays are dishwasher machine friendly and the entire tray is one hand removable, but can also be attached and unattached with both hands on the sides of the tray.
The seat padding is very easy to keep clean and is even machine washable when need be. The legs of the high chair feature four rolling wheels that have a locking feature. For me, it is always a struggle to keep the wheels unlocked while rolling the chair across carpet but no problem across a hard floor.
Right now, Zander is out of the full high chair and has moved on to the booster seat. We all feel like he is more involved with meal time now since his chair sits right in a dining chair (safety straps keep it nice and secure) and he eats off of the dining table with the rest of us! I love that this chair was so affordable and gives us options. Who doesn't love options? The toddler seat and tray are stored in our small hall closet with no problems so that is a plus if you don't have a lot of space to work with.
I love the Ingenuity Trio. I've convinced my mom to gift my sister with one for my 9 month old niece and I hope that all you happy mamas will enjoy it too! I definitely recommend it.

Let me know in the comment section what you think about this high chair!